"The easy work is behind us; the hard work is yet to come"
The UK has made great strides in decarbonising its power generation with emissions at the end of 2020 forecast1 to fall 55% compared with five years ago. That's almost four times better than the 14% reduction forecast1 in non-power8 emissions over the same period. However, the real challenge lies ahead if the country is to achieve its ambition of being net-zero by 2050. The carbon emissions from the power industry are set to decline just 7% over the next three years1.
In 2019, total UK greenhouse gas emissions were 45% per cent lower than in 1990. Achieving the newly announced target, a 68% cut by 2030, will require the UK to work 50% harder than it currently is.
The bulk of the reductions in the energy sector have come from the successful transition away from coal generation in favour of gas, thanks to a combination of the carbon price floor2 and the EU ETS3.  Simultaneously, government subsidy schemes have supported renewable generation resulting in large increases in both wind and solar capacity both in the UK and Europe.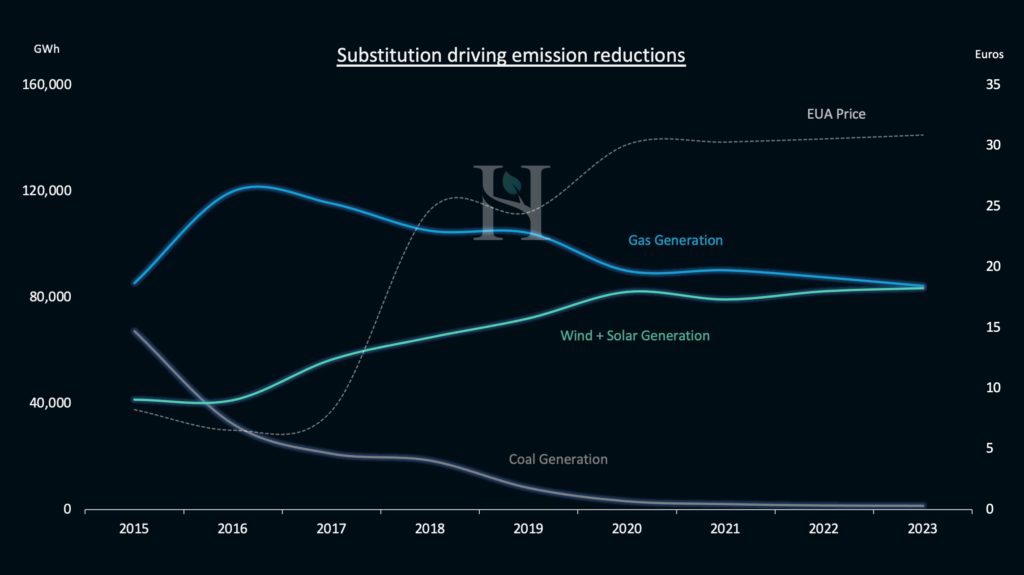 With coal soon to be entirely removed from the UK's generation network, attention switches to how the remaining emissions will be removed and how a net-zero carbon energy supply system will look. The outlook is further clouded by the huge growth in electricity demand that is anticipated over the next few decades as the UK accelerates its transition to a fully electric vehicle fleet with Prime Minister Boris Johnson recently announcing the ban on new sales of petrol and diesel-powered cars from 20307.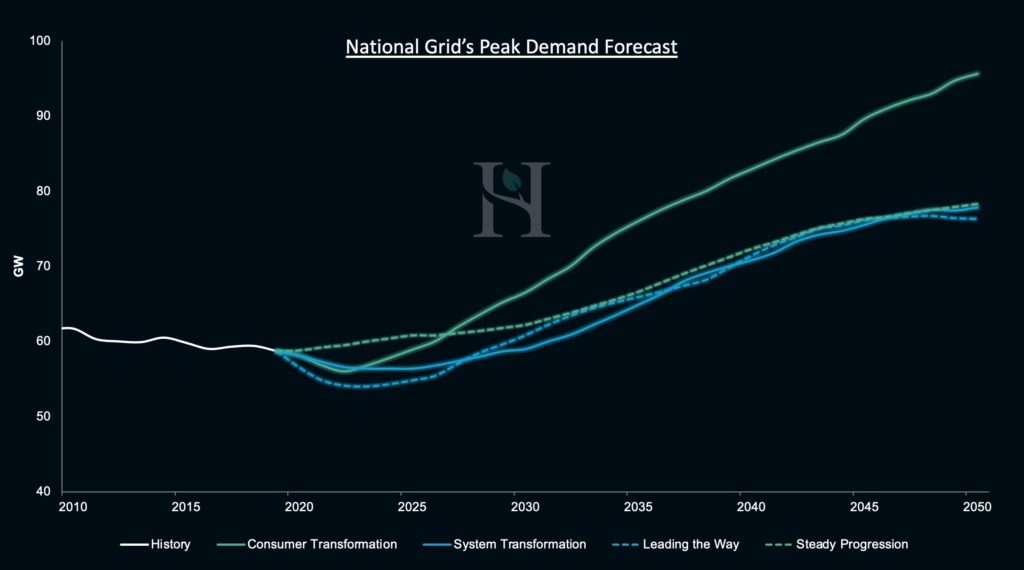 As the National Grid recently said in its Future Energy Scenarios 20204 report: "Reaching net-zero carbon emissions by 2050 is achievable, however, it requires immediate action across all key technologies and policy areas, and full engagement across society and end consumers," adding that significant investment will be required in low carbon generation.
Globally there needs to be swift and coordinated action too with the COP26 Energy Transition Council stating9 earlier this week that the global transition to clean electricity generation needs to at least quadruple by 2030.
Using our proprietary model at Hartree Solutions, when we look forward over the next five years the pace of emission reductions dramatically slows. This is despite our view that subsidy-free renewables will see significant growth. The easy switches have been done and any further reductions will face a headwind of sharply rising demand.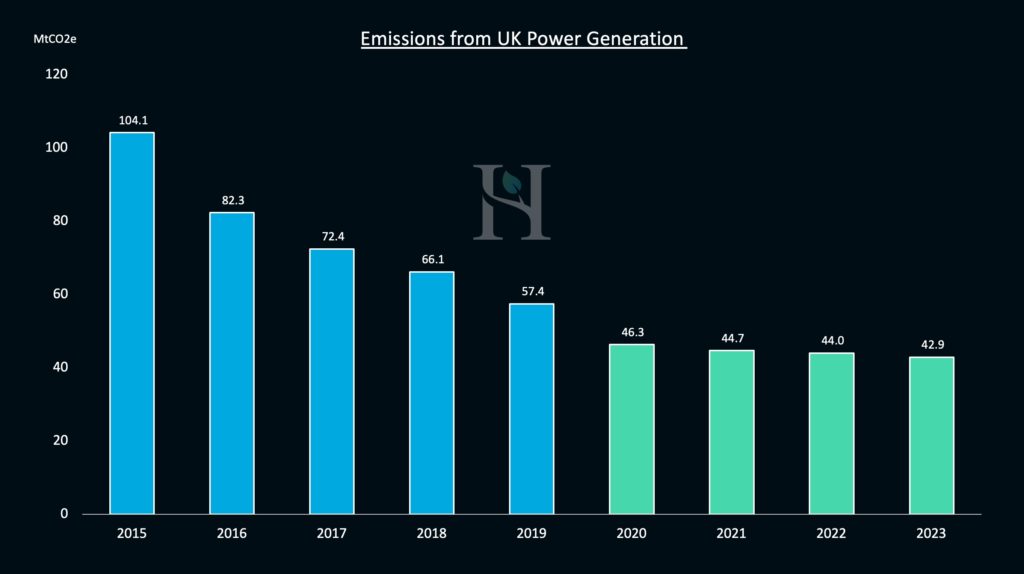 At Hartree Solutions, we believe it is essential to consider the lifetime emissions of each solution. All electricity generation has some form of carbon footprint and so far, this has typically been measured by the direct emissions. It doesn't for example factor in the huge costs, in both financial and emission terms, of decommissioning a nuclear plant.
As the industry awaits the government's long-delayed energy white paper for further details on how the UK reaches net-zero, it's worth noting the World Nuclear Association's "lifetime emissions analysis"5.  Nuclear generation has a much larger upfront negative carbon impact than wind and solar due to the vast amounts of energy and materials used in its construction. Also, when the carbon intensity of decommissioning plants is taken into consideration, it shows that the lifetime emissions from stations such as Hinkley C and the proposed Sizewell C are worse than wind, as well as the cost of this nuclear generation being 2.3 times greater than its renewable alternative6.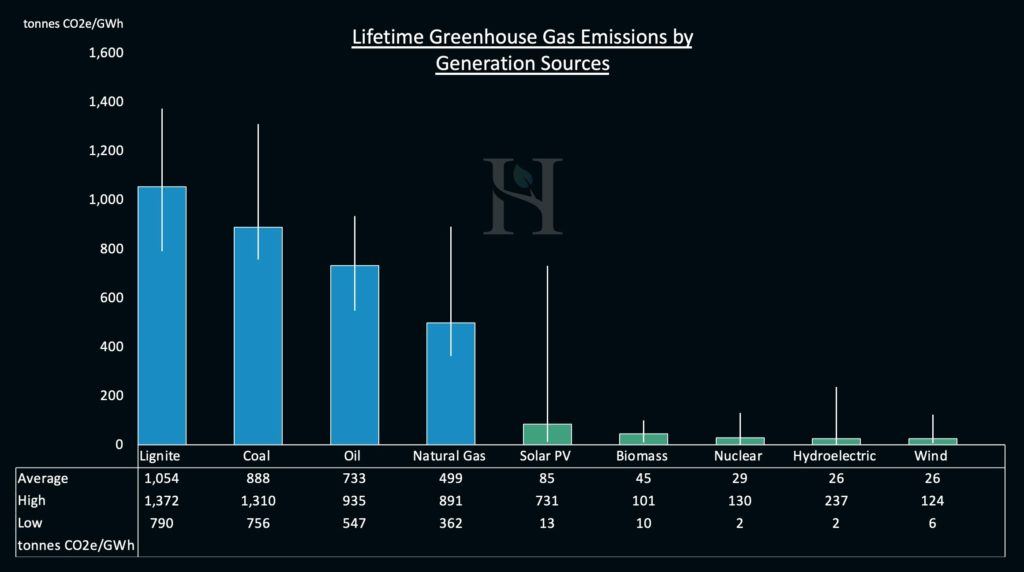 "Our actions today affect our carbon emissions tomorrow"
The reality of a net-zero electricity grid is still some decades away (see Market Insight) and while we must be drawing up long-term plans to meet this goal, we should not lose sight of the impact of carbon emissions in today's power generation and the importance of our transitional steps towards this decarbonisation goal over the upcoming decades. Our actions today affect our carbon emissions tomorrow.
Currently, the UK power network is designed around cost, using the lowest marginal cost of generation, but if we want to reach net-zero, is this still the correct approach? And when should our focus shift towards solving for the lowest carbon solution?
For example, does it make sense to have regulatory policies that incentivise reduced production from UK gas generators with much lower carbon emissions and substitute that with cheaper continental lignite generation that produces nearly twice as much carbon to produce the same amount of electricity? Whilst consideration of this in the current UK regulatory system is questionable, we can take our own actions to prioritise mitigating carbon emissions above the cost of the power itself.
Low-carbon energy freedom for your business, with zero capital investment
Hartree's in-house modelling allows us to predict current and future power prices with a high degree of accuracy and we can use this data to predict both the average and marginal plant's carbon intensity of the UK power generation network today and into the future. We can extract historic carbon emissions and forecast future carbon emissions from our hourly modelling and use this to question carbon policies in this seemingly sedentary period until technology allows for the next wave of dramatic reductions. More on this in Part 2.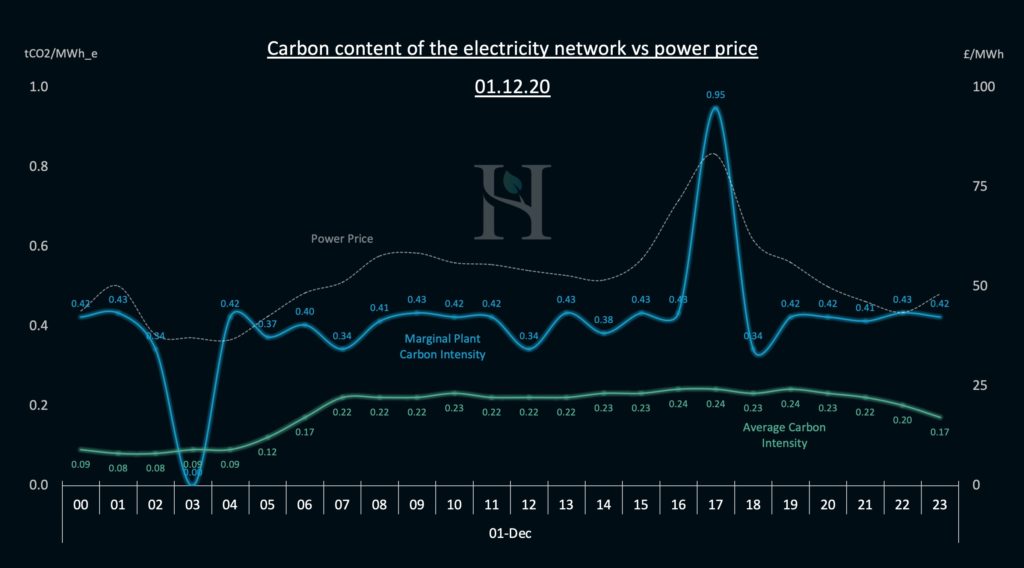 Three major considerations that are often overlooked, or frankly may be just too difficult to answer when we consider our own carbon goals are:
How can we measure the impact of our carbon-reducing actions?
What granularity should we measure our actions and emissions in?
What should we do about emissions that can't be economically reduced at source?
Over the remainder of this series of Market Insights, we look to answer these questions.
Hartree's market-leading in-house team of experts are here to offer transparent advice and solutions for you when planning for your business over the next decade and beyond. We offer low-carbon solutions for your business, with zero capital investment to support you in the journey to net-zero.
We are consistently hearing from businesses such as industrials, data centres and universities that consumers are no longer willing to deal with companies that are not at the forefront of 'the road to net-zero'. Don't let your business get left behind.
Coming up in the next article in this series, we look at what it really means to be 100% renewable and whether, as an industry, we need to be more transparent over our claims. We also analyse the correlation between power prices and the grid's average and the marginal plant's carbon dioxide emissions and delve further into what actions we should really be taking to reduce carbon impacts in the near term.
More Market Insights
Footnotes  
1 Hartree Forecast
2 Carbon Price Floor
3 EU ETS
4 National Grid Future Energy Scenarios 2020
5 World Nuclear Association's "lifetime emissions analysis"
6 Calculated using the Hinkley Point C CfD Strike Price of £92.50/MWh (2012 prices) and the UK's Third Contracts for Difference (CfD) auction where wind cleared at £39.650/MWh (2012 real).
7 The Ban on new sales of petrol and diesel-powered cars from 2030
8 Non-power industries include cement/lime, ceramics/glass, chemicals, metals, oil/gas and pulp/paper
9 COP26 Energy Transition statement